The COVID-19 crisis has challenged traditional timelines for everything from vaccine manufacture and clinical trials to diagnostics development. In a joint project from Stream Bio and MIP Diagnostics Ltd, a superior rapid diagnostic and associated mass screening test can be developed with an estimated timeline of just 11 weeks. It has the potential to reduce diagnosis times for COVID-19 to just 10 minutes, in addition to increasing the sensitivity of detection.
This 11-week diagnostic development timeline infographic that has been developed with The Pathologist summarises the key milestones for each week of the project. It highlights the speed of development and the benefits this test will bring to the evolving pandemic, and to any similar crises in future.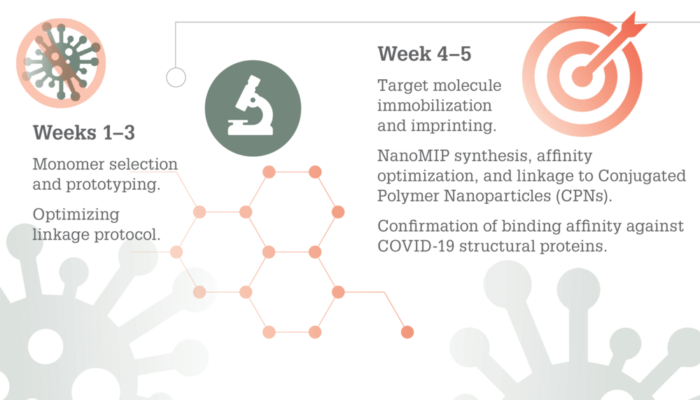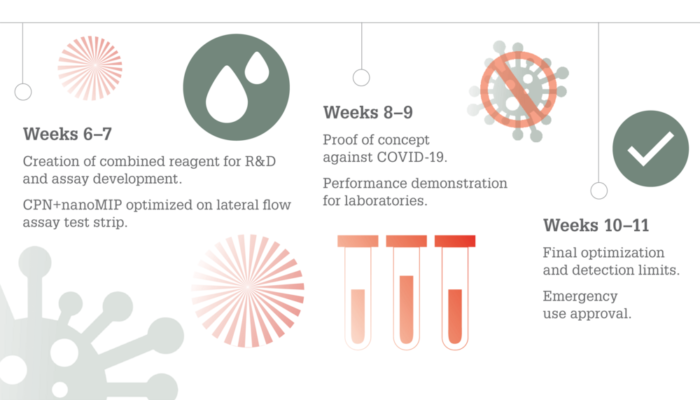 The end result is a diagnostic reagent that can be used in both lateral flow assays and mass screening tests. This will provide a complementary alternative to PCR, providing more than doubling the national capacity for mass testing while dramatically reducing diagnosis time to 10 minutes. By combining our novel, highly developed technology with innovative nanoMIPs, we can offer a superior diagnostic reagent with heightened sensitivity and specificity of binding. This will change the pandemic testing capacity and aid outbreak management worldwide.
Created by: The Pathologist