Conjugated Polymer NanoparticlesTM have many unique properties that make them well-suited for use in Rapid Diagnostic Tests (RDTs). Their brightness, even at low concentrations, provides a clear test line that does not fade over time. Further, their intense fluorescence enables detection of low levels of the target molecule, delivering a high level of sensitivity. The long-term stability of CPNsTM supports the development of a stable, robust detection platform. These properties give CPNsTM great potential to enhance the field of rapid diagnostics to help combat both current and future healthcare challenges.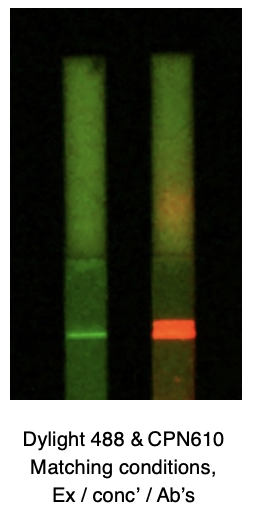 Comparison of test line brightness and intensity between CPNTM 610 (Orange) and conventional fluorophore Dylight
Brightline DX
Brightline DX is a joint venture formed by two highly innovative UK companies, Stream Bio and Chelsea Technologies, to combine novel technologies and create a unique point-of-care platform that can deliver lab levels of sensitivity and be applied to a wide range of diagnostic applications. The joint venture's immediate focus is a highly sensitive saliva-based rapid test for COVID-19 which can identify SARS-CoV-2 even at the low viral loads typically found in asymptomatic carriers.
We are pleased to embark on this exciting collaboration with Chelsea Technologies to explore the potential of CPNsTM in diagnostics. Coupling the unique properties of our CPNsTM with Chelsea's expertise in optical design will open a wealth of new opportunities for rapid, reliable and portable diagnostic readers for a range of healthcare applications.
To learn more about this partnership and gain further insight into the applications of this technology, contact us at info@streambio.co.uk or info@brightlinedx.com.

In the Pipeline
A highly sensitive saliva test from a simple to use, portable platform.
Viral detection sensitivity similar to that of current PCR-based techniques.
Fluorescent capture and labelling of individual COVID-19 virus particles, including at the low viral loads typically found in asymptomatic carriers.
Rapid results within minutes.
Robust, portable and adaptable reader unit suitable for use in any environment, from community testing centres, transit hubs, educational venues and places of work to testing in less developed countries.