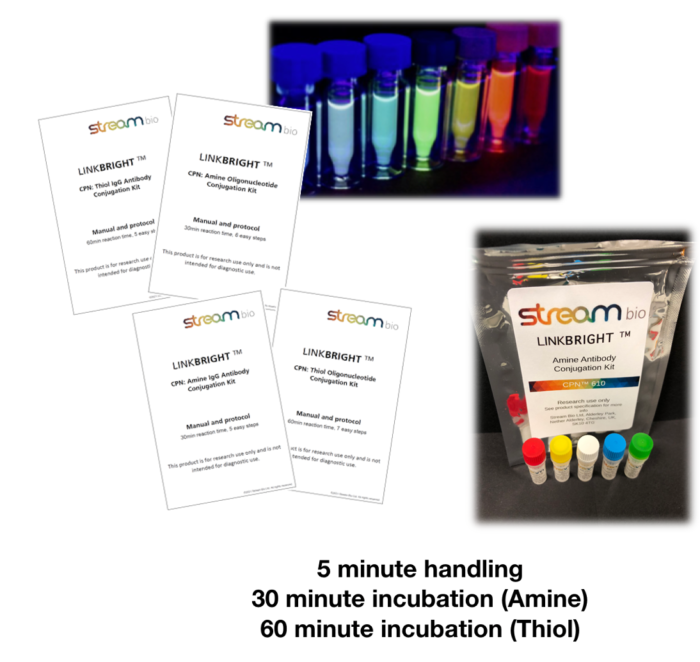 LINKBRIGHT™ CPN Conjugation kits for Antibodies and Oligonucleotides
Stream Bio's LINKBRIGHT™ conjugation kits allow covalent linkage reactions to be readily carried without access to specialist chemistry capabilities. The kits are designed to be specific for a given linkage chemistry, amine or thiol, and a given analyte type, antibodies or oligonucleotides, with rapid reaction times of 30 or 60 minutes.
Antibodies and proteins can be linked via the amine groups present in their structure using the 30 minute reaction of the CPN Amine Antibody kit. Where there are appropriate cysteine/cystine residues the thiol groups can be reduced and linked using the CPN Thiol Antibody kit. CPNs can also be linked to oligonucleotide such as primers or aptamers where they have been suitably modified to contain a thiol using the CPN Thiol Oligonucleotide kit, or primary amine with the CPN Amine Oligonucleotide kit.
Quick, simple & easy steps with kits covering the entire CPN™ range
CPNs are extremely bright and stable fluorophore nanoparticles which have been shown to give exceptional performance in a wide range of fluorescent analysis applications, such as lateral flow tests, fluorescent ELISA, cell tracking, immunofluorescence microscopy, flow cytometry and western blot. CPNs are resistant to photobleaching and a wide range of temperatures (-20°C to 120°C) and pH (2 to 12). They have been shown to be 1000x brighter than other fluorophores bringing exceptional levels of detection to assays and diagnostics. Visit our applications page to see how CPNs can enhance your research.
---