When the COVID-19 pandemic first spread across the world in a wave-like fashion, the impact was devastating. Hospitals were overwhelmed, death rates rose and economies crashed as a result of national lockdowns. The key to containing any viral spread is sensitive and accurate testing. PCR testing has been the primary method of diagnosis; however this method requires scientifically trained personnel in a laboratory setting with a turnaround time of up to 48 hours.
We are in the process of developing our collaborative fluorescent lateral flow diagnostic platform, Claritas, which can potentially offer PCR-level sensitivity detection in minutes, in any environment.
To find out more and register an interest contact us.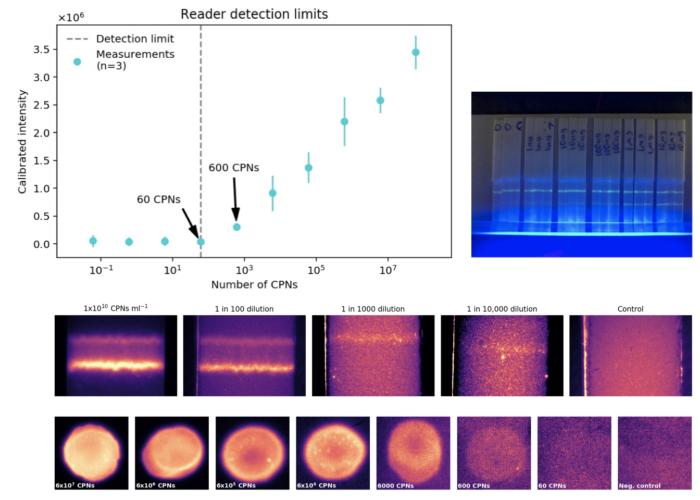 Point-of-Care Rapid Diagnostic Tests – the solution
Antigen detecting rapid diagnostics tests (RDTs) are quickly being developed to enable mass testing and screening. Sensitivity and specificity are vital for implementing a rapid diagnostic and we've taken a collaborative approach to leverage both, resulting in a novel technological approach to a standard lateral flow test format. Our RDTs provide essential improvement to early rapid diagnostic applications through:
CPN™+nanoMIP SARS-CoV-2 Reagent
MIP Diagnostics Ltd manufacture nanoMIPs or 'synthetic antibodies'. They have developed a SARS-CoV-2 high affinity reagent to the Receptor Binding Domain (RBD) of the SARS-CoV-2 coronavirus spike protein. When coupled with our intensely fluorescent CPNs™, the test signal will be enhanced, improving detection sensitivity.
CPN™+SARS-CoV-2 nanoMIP offers:
High sensitivity proven to 0.3ng SARS-COV-2 spike protein.
High affinity with a kD of 15nM to the COVID-19 spike protein.
1000x brighter signal than quantum dots.
Easy to transport and store with predicted minimum 12 months stability under ambient conditions.
The unique stable properties of the novel technologies produced by Stream and MIP, allow for fast development of an extremely sensitive and stable detection platform for the virus.
The Claritas Reader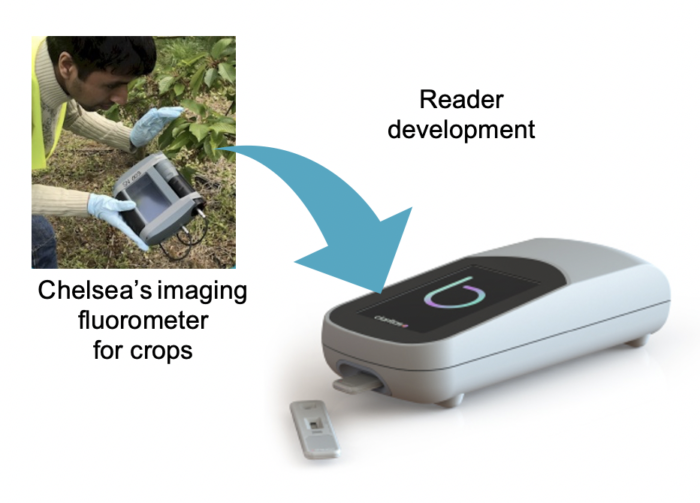 The Claritas reader is based on handheld fluorometric devices proven in Chelsea Technologies' environmental and agritech applications, and capitalises on the extreme brightness of CPNs™. Adapted to the Claritas diagnostic system it delivers a superior diagnostic sensitivity in a robust, portable format able to withstand a 1m drop. It offers a touch screen interface, 6-hour battery life and digital storage & connectivity.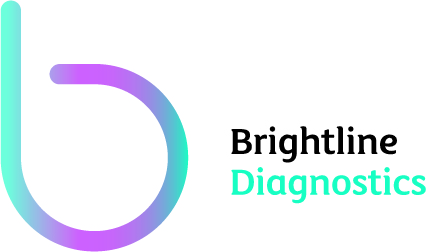 Brightline Diagnostics is a joint venture formed between Stream Bio and Chelsea to develop Claritas for a variety of healthcare and environmental diagnostics.
To find out more and register an interest contact us.